Real cameras cost a lot of money. You could opt for this 4 channel security camera system for about $190. It has all the bells and whistles you need, from a DVR and cellphone accessible feed. There are four security cameras as well, so you can get full views from the exterior of your home. They include a DVR system, remote, power cord, and  access via your computer. Check it out – doesn't it look good?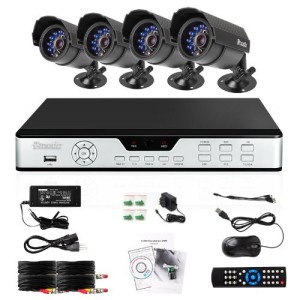 Don't have that much money to spend, but still want to have the deterrent of an actual camera? Well, you're in luck! Introducing the:
Dummy IR Bullet Camera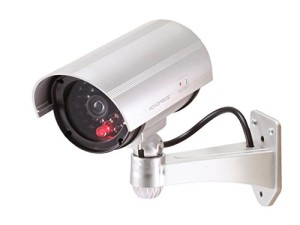 And guess what? It's only $12! What a steal –

This little thing can do wonders to deter potential threats. It will not record anything, so it really should only be used that way. If you have a real threat and are worried about someone bashing in your camera or breaking into your property, you should opt for the real thing. Having a dummy or fake camera can provide the added security of stopping those with lesser intent, or the casual bystander, but honestly – those who want to get in will. The old adage is, if there's a will there will be a way, and if someone wishes to break into your valuables (home, car, etc), and whether it's barbed wire and attack dogs stopping them, or the threat of being recorded on video, there will be nothing that can completely break their resolve.
Retail stores also use fake cameras for the same reason. When walking through a department store, check out the ceiling and count how many cameras there are. Do you think each one is real and being monitored? Most likely not. They're a psychological trick to get people to act in a certain manner – just because they know they are being monitored.
Security cameras were developed primarily as "closed circuit cameras" to broadcast their images to a set of monitors or to be recorded and viewed on something like a DVR, at the time probably VHS tapes. They were used to not only monitor traffic stops, but also stop theft in department and retail stores as well. The funny fact of the matter is, much of these cameras are also fake! That's right, every camera that you see may NOT be operational! While being knowingly monitored, human beings will act in a different way. It will not stop the most persistent or desperate thief, but having the potential reduced is an overall cost savings for department stores and over cash registers as well.
Even if you do have cameras, people can still wear masks or use spray paint to obfuscate the view of the lens, or even take something such as a crowbar to it. Do you really want to be out hundreds of dollars for losing one camera? Didn't think so. To fool pranksters and punks, just having a fake camera works wonders. And for a little humor, we found this image of a thief being caught on camera.
And if you really want to be secure in your recording of thieves – get the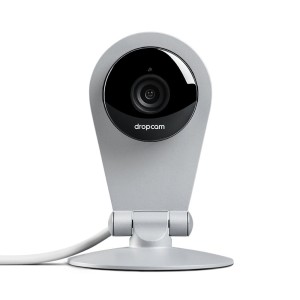 This camera is what the above GIF recorded. You can sleep safe and sound knowing that your video will be uploaded automatically online, and your valuables will be safe. Happy recording (or Fake Recording)!