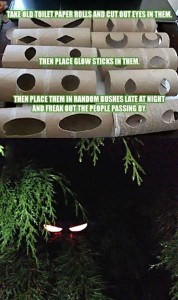 This evil eyes ghost prank is perfect for all hallows eve, or any night for that matter. What it is is basically toilet paper rolls with cut out eye sockets, where you can place glowsticks in the roll. In the night, the light from the cracked glowstick will have an eerily haunting glow through the cut out paper roll causing any passer by to freak out. It's simple to set up, and should be a fun activity for your friends to do one night.
What is needed for this prank: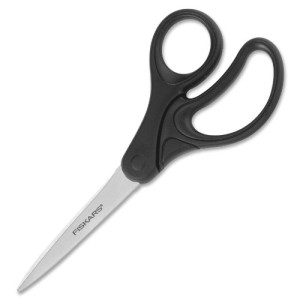 Any type of scissors will do. We like these type because they are cheap and sturdy.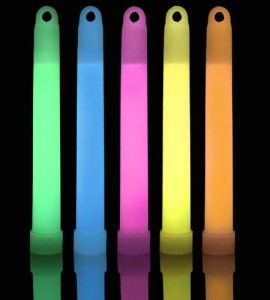 Any type really works, but we prefer the large candle-stick size glowsticks for the best results.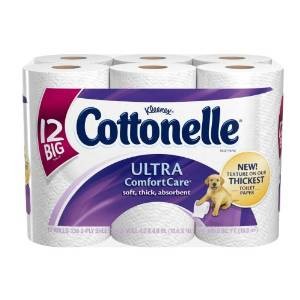 You can either use toilet paper or paper towels, but we found the size and ease of working with toilet paper the best for this prank. Also, the toilet paper can be used for a harmless prank known as teepeeing – where you throw the paper over some evil person's house.
How to make this prank happen:
First, you'll want to use all that toilet paper. May we suggest going out and teepeeing your neighborhood? How sinister! Now remember, save all the empty and used rolls for use in this scare prank. Now that you have your toilet paper rolls, you're ready to move onto the next step.
Take your industrial strength scissors and cut along one side of the cardboard on the roll. You can make shapes such as ovals, or tilted triangle for a more 'evil' eyes.
When you are ready, you can crack the glow stick to prime it. Give it a few shakes so the chemical reaction can get started. To make sure that the glow sticks don't fall out during the night (say, due to wind), you can even use some masking tape on the sides of paper towel roll.
You can even get  string to tie a loop around the roll, to throw it up or tie around fences or trees for better results.
Where to place the evil eyes prank product:
The best places we found have been on wire fences, high up in trees looking into your victims bedrooms, off in the corner of dark garages or rooms, and directly outside sliding glass doors.
You might want to include this eviltron gadget, so that it can make spooky noises and enhance your scare!
Go out and have fun, let us know how it goes, and record it if you can! Please write us in the comments about your thoughts!