This prank is one of the more simpler pranks out there, requiring very little experience and only two real products to get to put in motion. You will need to have some delicate hands to place the powder into the capsule, but more on that later.
The Stained Shower Prank
For the setup, what you'll need is: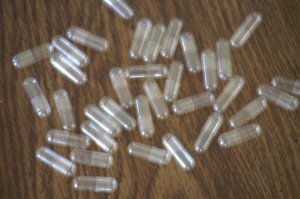 You can either purchase these, or bust open some Tylenol or other vitamin/powder capsule and dump out it's contents to use. It'll probably be easier to get them online however. This is what will store the staining dye powder. You'll probably only need about 20 of these, again depending on the size of the shower head and how many can fit inside.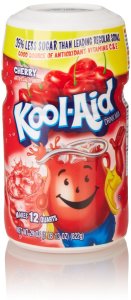 Ah, the amazing Koolaid! This staining dye powder does wonders. It's useful in a drink, or added to a shower-head to spray some unknowing target. You'll need access to their bathroom however, so fair warning. Plus their logo dude is top rate, which you can smash in on them in the bathroom as well.
And of course, you'll need access to your target's bathroom and specifically their shower-head!
How do this prank work?
Basically, gelatin capsules work by holding the medicine or whatever product within these gel capsules. When you take a capsule such as Tylenol, the pill enter into your stomach to get dissolved by your stomach acid, thus releasing the medicine to get you to feel better. Well, this prank technique uses the similar process, except the gelatin is filled with a stain-creating koolaid instead of medicine, and uses water instead of stomach acid to dissolve this barrier. This will induce shock and horror to the showerer (the pranked), thinking that they are bleeding or in some type of sick and twisted movie or bad dream.
The reason that gel capsules are the best, is that they'll dissolve slowly, thus releasing the payload over a prolonged period of time instead of just stuffing the shower cap with powder. If you did that instead, your enemy can just turn it on and notice what's happening, not getting into the shower right away. If you're anything like me, you'll turn on the shower, check in a minute to see if it's hot, and then jump in. If I saw a red stream of water all over the shower floor, my skin would turn the same color as I tried to flush out the perpetrator!
The outcome will look something like this: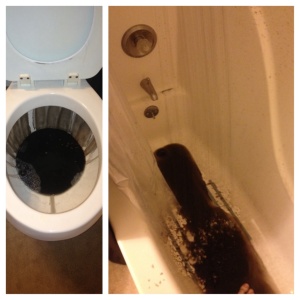 Oh, they placed the fake staining blood in the top of the toilet bowl it seems as well.
Other Notes:
You could also potentially use hair dye or another ingredients inside of the gel capsule, not necessarily koolaid. Koolaid works because it is ridiculously cheap and powerful for this prank. And just a heads up, red is probably the best color, although you could go for green to get a sickly look on your victim. And lastly, while they're in the middle of their shower, you can kick down the door and say:
Alternatively, you can use something not as colorful but can get the job done for you. It is best pulled on roommates: Chicken Soup, Anyone?
Step1:
Unscrew shower head like the above prank, and put chicken bullion cubes into said shower head instead of the gel capsules. They look like this below. You'll want to unwrap them before placing them in.


Step2:
Screw back on the shower head back to it's original position, now filled with tasty ordinance.
Step3:
Act confused but quietly laugh to yourself when roommate steps out of shower, smelling like chicken and sticky from the hidden packages!
So that's it!
If you're interested in buying the ingredients for this revenge prank online, get the koolaid, gel capsules, and chicken bouillon cubes. Now, go out and get your revenge!