The Annoyatron Prank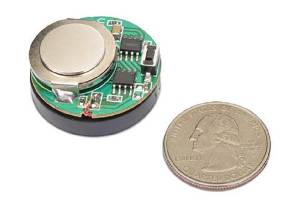 As the name implies, this little device will annoy the heck out of your unsuspecting victims.
Imagine this:
You hear it.. "BEEP!" – 10 minutes later, that same buzzing noise happens again.. "BEEP!". Dang, your mind thinks, "I need to find that thing." You set off on a frantic search for this annoying beeping, which is seemingly going off in random intervals. The anticipation of the sound soon enters your mind, and the it kills you. It will go off in 5 minutes, then 8, then 3. Each time, almost impossible to place where the source is located. Soon your room or office is a disheveled mess, and any passerby would instantly recognize the crazed look on your face. The sharknado passed through here, and the murder scene is evident. It will drive everyone crazy. Searching and waiting will eat you alive, since the sound is almost impossible to pinpoint.
This 'annoyatron' device is AMAZINGLY small, and comes with it's own battery to last for weeks on end of hilarious fun. You might get annoyed pranking your coworker, boss, neighbor, or roommate – but hold out, because the results of it are worth it.
Best places to hide an Annoyatron
We found that the best places to hide it are underneath desks, in drawers, in teddy bears, and multiple other places that are difficult to get to or search. Hide it in the dorm room of your enemy, behind their desk or under their bed. Have a coworker that is driving you crazy? Use it to drive the berserk as they fiendishly and helplessly search everywhere for the annoying beeping around them. Hide in conference rooms, bathrooms, and bedrooms. Since it is very difficult to pinpoint, using tape and placing it in a hard to reach place will most likely yield the best results.
In one video, a coworker hilariously taped his cubemate (probably to cause some sort of distraction of the cube-monkey life) as he almost ripped out his hair by searching for the device. To admit to his guilt, he finally showed in a tell all video where the device was hidden. The coworker who was being pranked definitely had a smile on his face, as he set out to find that little electronic terror device. It was conveniently well hidden, placed in the end of a file cabinet. The only way to find it was to remove the whole cabinet, and find it lodged in the back. Such an excellent spot, and one we recommend as well.
You can even get a hidden camera to record as well, so you can post it on YouTube and forever make fun of your pranked frenemy. That's exactly what this guy did:

Here's a link to a similar video, this time placed behind the monitors. Sorry for the potato like quality of the recording.

Check out another video here of people getting annoyed frantically searching for it:

We also wanted to reach out to first hand testimonials. If you have one you'd like to contribute, please contact us or leave a comment below!
Also, you can get your own Annoyatron device here (for around $13 + S/H!